"[Sounds of being proud]"
―Homeless
General Information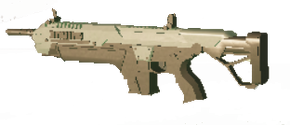 The XR15 is a modded assault rifle firing 2-round bursts. Despite being an airsoft gun in real life, in Arsenal, it's an actual gun that fires 20 rounds of bullets.
In-game, the XR15 is notable for being one of the few assault rifles that fire in a burst fashion, similar to that of the M16A2. It fires from a 20-round magazine, with 60 rounds in reserve.
The firing rate of this weapon is similar to the M16A2. However, despite being a 2-burst weapon, users tend to use this like the M16A2 in which they find this good at using for mid and close-quarter combat.
Pros and Cons
Pros:
Fast rate of fire while bursting.
Has low spread.
Good damage for its class.
Cons:
Poll
How would you rate the XR15?
Trivia
The XR15 is an identical copy of the CSI S.T.A.R XR-5 FG-1508 Advanced Battle Rifle, an airsoft rifle built around an M4 gearbox.

It also bares resemblance to the CZ 805 BREN created by Česká zbrojovka Uherský Brod in 2009.

The XR15 is the 3rd burst-operated weapon that was added to Arsenal.

This, the M16A2, the Plasma Launcher, and the DB Chauchat with ADS on are the only burst-operated weapons in Arsenal.
While the M16A2 and Plasma Launcher are 3-burst, the XR15 and DB Chauchat are 2-burst weapons.

The XR15's sounds are the same as the M16A2, albeit slowed down and lowered in pitch.
This along with the Rocket Launcher, Peacemaker, Barrett, G-17, AUG, the Trench Gun, and the DB Shotgun are the only primary weapons that appear in the Arcade gamemode.
Audio
Weapon History
Community content is available under
CC-BY-SA
unless otherwise noted.